Crafting Captivating Outdoor Spaces: Decks Design, Pergolas Installations & More
When it comes to enhancing your property's aesthetic appeal and functionality, outdoor spaces play a pivotal role. They function as an extension of indoor living, providing a haven for relaxation and entertainment. At Galvan Roofing and Construction, we specialize in creating outdoor spaces that are both visually stunning and comfortably functional.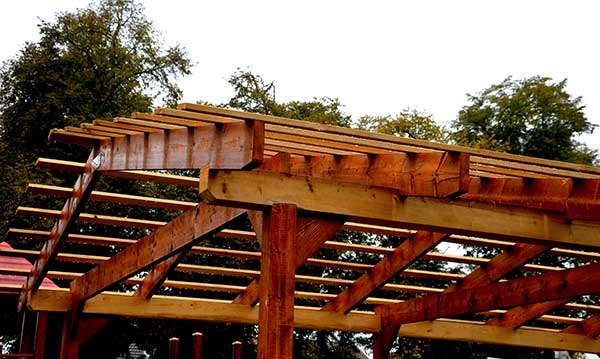 Decks, Patios, and Porches
Building a deck, patio, or porch is one of the most popular ways to create an inviting outdoor space. Whether it's poolside lounging, open-air dining, or a cozy corner for evening chats, we can help you create your dream outdoor setting. We'll guide you in selecting the appropriate material, be it pressure-treated wood, vinyl, composite, or natural stone, and design an outdoor environment that blends with your home's character and your unique needs.
Outdoor Kitchens and Fire Pits
Entertainment and relaxation go hand in hand with outdoor kitchens and fire pits. Whether you fancy entertaining guests with alfresco cooking and dining or dream of tranquil evenings by a fire pit, we have the skill set to create it all seamlessly.
Gazebos and Pergolas Installations
Crafting a stylish pergola or gazebo can offer shade, visual intrigue, and a beautiful framework for climbing plants. These structures can provide a unique focal point and functional area within your outdoor space.
Why Homeowners Choose
Galvan Roofing and Construction
We are more than contractors; we are your partners in crafting the perfect outdoor space. With years of experience, we handle everything from conceptualization to the final touches. Our process involves:
Understanding your vision and needs.
Providing solutions and ideas supplemented by our expertise.
Mutual decision-making about designs, materials, and budget.
Thorough and professional execution of the project, followed by clean-up and post-construction services.
Your new outdoor space will be a blend of your vision, our craft, and the highest quality materials.
It's Time to Elevate Your Outdoor Space
Your home's potential expands beyond its walls. Whether it is pergolas installations or outdoor kitchens, give us a call at (361) 444-5606 to explore how we can enhance your outdoor spaces. With Galvan Roofing and Construction, your backyard is not just land – it's an opportunity.